How To Make & Market A Sexy Real Estate Video
If you're a realtor in today's cutthroat real estate market, you know that you can have all the suave and charm of Amy Sedaris as Pam The Realtor in Broad City and it won't be enough to get the job done.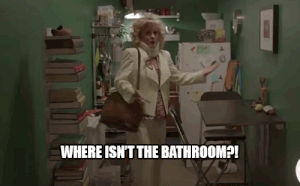 Home buyers are visual creatures, and video marketing is now essential for reaching and attracting buyers. In fact, more than 50% of prospective home buyers use YouTube as their primary video research.
So if you're not channeling your inner Spielberg and producing slick, amazingly irresistible listing videos, you're definitely missing out on those big fat commissions.
Where to start? Right here, with these basic tips for producing and then promoting a sexy real estate listing video:
Producing your video
Of course, you can use Fiverr video creators to produce a custom real estate video, but if you can't, consider these few tips when shooting:
Lighting
Good lighting is crucial, and you should film only when your listing has as much daylight as possible. You should also have at least one LED light on hand for filming in darker areas. The light "opens" the colors in the house and keeps the shots looking alive.
Angles/Shots
Take plenty of long shots for full coverage. Use a wide angle lens for small spaces to a capture a full overview of the property. Play with the focus, change it during the shot. Shoot with a shallow depth of field for a cinematic effect. Try to have objects in both the foreground and background to avoid boring shots. Use a slider for smooth, controlled panning shots that are fluid and not static.
Staging
Make sure to hide or remove as much clutter and overly personal possessions as possible. It may even be necessary to rearrange furniture. Be sure to highlight positive unique home features (interesting architectural details, features, grand staircases etc.) and leave out the not-so-flattering elements. If the en-suite master bedroom and balcony is really amazing and the secondary bedrooms are nothing special, it's ok to focus more time on it. Likewise, if the listing itself is not impressive, but the neighborhood and location (nearby restaurants, parks, schools, etc.) are, spend more time on neighborhood establishing shots.
Music/Voiceover/Text Overlay
Music can be a double edged sword–the right upbeat music can keep a video from becoming monotonous and boring, while the wrong music can come across as outdated and corny.
Likewise, a quality voice-over or actual guided tour through a house may be plenty engaging with the right charismatic host, but a simple text overlay describing each aspect of the home being shown can do the same job (and is much easier to produce).
Think about what your strengths and comfort level as a realtor or homeowner (on camera) and when it's your time to shine vs. letting the house do all the work.
Length
The general rule of thumb that says "shorter is better" does not always apply to real estate listing videos. Longer videos are sometimes ok, as you want to build credibility as well as adequately display all relevant aspects of the home and its surroundings. But as a general rule, 1-2 minute videos are appropriate.
Bonus
Many of the best real estate listing videos are now utilizing consumer drone technology to give their videos amazing aerial shots. If you have access to this technology, by all means use it! DJI is one of the leading drone companies.
Real estate video marketing
Great, your sexy and polished real estate listing video is finished. Now what? It's time to promote and disseminate it for maximum exposure. Here's some tips:
Create a prominently branded YouTube page for your company that clearly showcases your office and contact information. It should be incredibly easy for the viewer to find out how to reach you in case he is interested in following up on the video.
Give your videos short but descriptive video titles that will be easily found by your home hunters, but they should still be different enough from what's been used already by others. Words like "breathtaking" and "beautiful" tend to draw lots of attention, but be sure you can back that up with the listing.
Use YouTube's video manager page to set up keyword descriptions for your content. Adding relevant keywords will ensure your video comes up more often in search results and will be found by the target audience, and increase the likelihood it will be shown in the "related videos" sidebar feed.
Use annotations and cards sparingly as they may annoy viewers, though it can be useful to link directly to your website midway through a video.
Share your polished and optimized video across the rest of your social media channels (Facebook, Twitter, LinkedIn, etc.) and email campaigns as appropriate. And be sure to embed it on your own website as well.
Lastly, check out your video comments and follow up with leads who've seen your videos to ask them what drew them to the videos and what didn't so that you can improve your videos over time.
You can also create simple dedicated websites to showcase your real estate video and listing.
The days of newspaper listings with grainy photos and lacking descriptions are over (sorry, Pam!)
With a little creative elbow grease and these practical tips, you can produce a sexy real estate listing video that will have prospective buyers banging down your door.
---
Don't Forget to Share this Post!